I am completely paralyzed in that I have not done ANYTHING for this move. I haven't really bought anything (I have ordered the paint, kudos for me); B found a three dollar lamp base at a local thrift store (kudos for him), but really, we haven't done a whole lot. The fact is, I don't WANT to do anything until I have to, which is not a mature thing to do, but I don't really care. I might kick myself in the ass when the time comes to move and we are unprepared, but for right now, I want to drink my beer, watch the Dog Whisperer, and look at pretty things online. I'm hoping this beer will wash away the guilt of being so lazy.

I know that finding a couple of dog beds would make me feel productive. If you don't own a dog, let me preface this by saying that cute, modern dog beds are friggin expensive so I'm having a hard time finding two I can afford. I don't sew which doesn't help my dilemna, but here are a few of my finds.

I love the beds by Jax and Bones (I've posted a
bed
by them earlier). They offer a variety of patterns, which is helpful b/c pattern reveals less dirt.
"Illusion" $99 - $170
"Zen" $99-$199
"Willow" $99-$199
I can drool over these all I want, but unless I want to make the dogs share an x-tra small bed (hey, that doesn't sound like a bad idea) I better start looking at some other options.
I like this bed b/c it's a neutral color and the denim would make it a little tougher than normal dog beds.
"Premium Denim Dog Bed" large $89 and L.L. Bean sells replacement covers.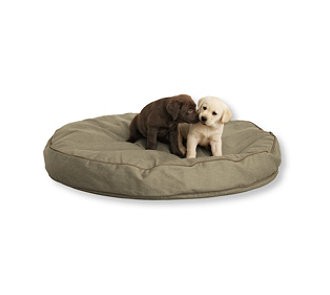 source:
LL Bean
This is a large pillow "orthopedic" bed for only $46.85! The dog silhouette adds a little something extra.
source:
Ebay
Suggestions anyone???