Many of you may think I'm behind the times b/c I'm just now posting about ikat prints, and although that may be true a lot of the time, really I just hadn't paid that much attention to it. I like to have opinions about things (if you haven't noticed) so I thought it would be time to end my antipathy about this decor trend. First I'm going to show you some examples of where I think this pattern works within in a space. These will be followed by a few products I might buy, and hopefully by the time I'm done, I'll have formed an opinion...

Ikat rug w/just the right amount of punch.
source: flickr
Look hard, there's an Ikat toss pillow thrown on that pink couch.
source: flickr
Toss pillows on the bed.
source: flickr
This is an actual antique framed tapestry (as in the real thing!)
source: elle decor
This unexpected pillow helps make this space a lot less serious.
source: flickr
See the ikat throw at the end of the bed?
source: AT
So here are three (affordable) pieces I could see in my home if I decided that ikat was for me. Seeing as how I'm not traveling to any exotic places anytime soon (so sad), these will have to do.
Sunshine ikat outdoor pillow $24
source: West Elm
I've seen this stylish little bowl all over the style blogs for good reason.
Ikat Bowls $14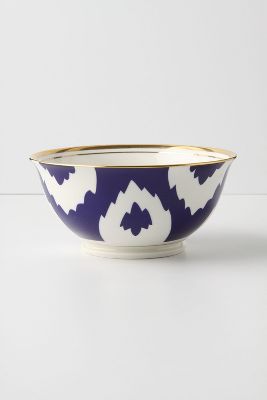 source: Anthropologie
Ikat Pillow $29
source: wishpot
So my final verdict is that, although I won't be jumping up and down to buy ikat pieces, I think it adds something unexpected and organic to a space.
What do you think? Take it or leave it?