I read a statistic recently, somewhere, that over 60% of women that wear headbands report headaches. I am not alone! I'd like to think my big head is a reflection of my giant brain, but man do headbands hurt my head. I'm prone to headaches anyways, so I don't wear them often, but I love the look of a good headband. I've mentioned before that my hair is growing out from a very short cut, so the need to tame my hair is increasing. Here are my picks for some headbands, weather or not they'll hurt my head, is a whole other issue.
This simple beauty has an antique, romantic feel.

Beaded Applique Headwrap $24
source: UO
Gray is neutral and the flowers add textural interest.
Spectral Jessamine Headband $38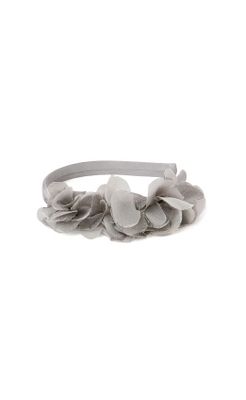 source: Anthropologie
I like the colors in this one (I have super dark hair so it'll stand out) and if it hurts my head, I've spent very little money.
Colorblock Striped Headband $1.60
source: gojane
The red and white has a fun, retro feel that I adore.
Cherry Wallflower Lotus Flexible fabric headband $9
source: Precocious
Does this look like an eye to you? Regardless, the colors are beautiful.
Peacock blue and green feathers headband $15
source: Elegant Whimsy
This would instantly dress up a white t and jeans.
Triple Band Metallic Elastic Headband $24.50
source: Jcrew
So my hunt for the painless headband begins. I'll let you know when I find it! Until then, any suggestions?