Every season I come up with a bit of a wish list (literally right it down) on new pieces I'd like to incorporate into my wardrobe. I do this, because much like food shopping, a list keeps focused on pieces I know I want as opposed to constantly last minute "have to have this but am probably not going to love it in a month" kind of purchases. One of the items that's a definite for this spring/summer is a short sleeved cardigan. This super versatile, easy layer makes strapless or thin stap dresses work appropriate without all the added warmth of a jacket. I've come up with a comprehensive list of affordable cardigans.
With your help, wonderful readers, I'm hoping to narrow down my search...
This seafoam color is my favorite amongst the available options and the simple, classic cut makes it very wearable.
Short Sleeve Cotton Cardigan $49.50 (on sale from $58)
source: J. Crew
The design is retro, but the cut brings it up to date.
Floral Picket Fence Cardigan $36.99
source: Ruche
Here's the lovely seafoam again (I'm loving this color) in a relaxed wrap, perfect for slightly chilly summer nights. Oh, and it's organic!
Sky High Organic Cardigan $44.99
source: Ruche
The length of this cardigan lends itself to skinny pants and layers.
H81 Darla Crochet Cardigan $19.90
source: Forever 21
The details on the cuffs and hem combined with the sweet blush color makes this one move to the top of my list (I just need it to be a little cheaper).
Kersh Short Sleeve Cardigan Pink Fairy $65
source: F. L. Crooks
The thin nautical style strips combined with the lace set up a fun juxtaposition...it would be less versatile but such a fun top to wear.
Lace-trimmed cardigan $32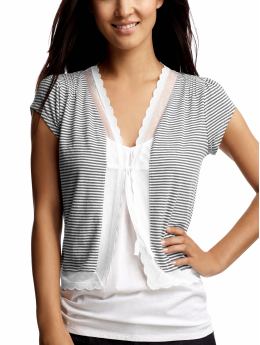 source: Gap
I'd take this top in sunny yellow to add some punch to a plain outfit.
Women's Pointelle Cardigan $24.50 (online only)
source: Old Navy
I'd wear this super casual striped style over a dress w/a fun belt.
Alyson Striped Boyfriend Cardigan $39.50
source: Delia's
Whew, so many to choose from and I'd like to have more than one b/c I think they'd get a lot of use. Any favorites? Is this a style you'll be wearing this season?
{Be sure to enter the giveaway, if you haven't already,
here
.}